Millennials in such major Indian business hubs as Mumbai, Bangaluru and New Delhi likely can relate to a recent survey conducted by Cigna TTK Health Insurance Co. that states 95 percent of Indian millennials admit to being stressed — more millennials than any other nation in the world.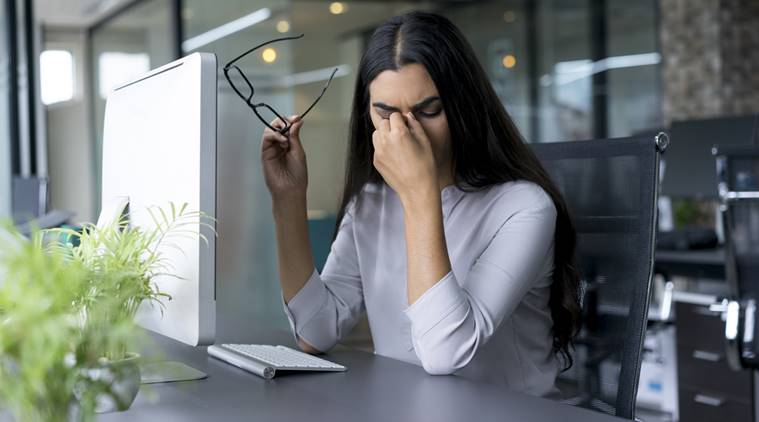 It's an alarming statistic, especially for a nation that thrives on relaxation techniques like mindfulness, meditation and yoga. The global average for millennials, who now range in age from 18 and 34 years old, by comparison is 86 percent, according to the study.
The survey was initially launched in 2014 to understand how employees perceived their well-being and personal health on the basis of five key factors — physical, family, social, finances and work. This year, the survey involved developed and emerging countries including Great Britain, the United States, Germany, France, China, Brazil and Indonesia where employees feel less stressed as compared to India.
Stress can have grave implications on the health and well-being of an individual.
Over a long period of time, stress can result in depression and also increase the risk of suicide. According to Bengaluru, India-based counseling and wellness company 1to1help.net, millennial professionals face the highest risk of suicide with women at greater risk than men.
Archana Bisht, 1to1help.net founder and director, said, "In the workplace, stress affects an employee's performance, which has a direct impact on their productivity and efficiency.
The Catalysts
Work has been cited by millennials as the main trigger causing their stress. After logging long working hours, they find it hard to juggle work and personal life. Millennials prefer jobs that helps boost their personal as well as professional skills. But when their work doesn't allow that, it makes them dissatisfied and can lead to stress.
Another major factor that's adding fuel to the fire is financial worries. Some 60 percent of millennials in India feel that they are bearing the consequences of decisions taken by their previous generations, like the global financial crisis that began in 2008, and rising national debt in India. And 65 percent feel they'll run out of money before they retire. Saving for retirement, paying off student loans and low income are some reasons wearing this generation out.
The reason this stress level is increasing at such an alarming rate is also that 75 percent of Indian millennials have said they don't feel comfortable talking to medical professionals about mental illness largely because of the stigma associated with having mental health problems and the fear of discrimination in the workplace. Respondents have also cited consultation costs as an obstacle to seeking professional help.
Chaitanya N. Sreenivas, vice president and human resources head at IBM India in Bengaluru, said urbanization is a major contributor to the problem.
"People are coming into big cities," he said. "There's less family support, more distances being traveled, less work-life balance."
There also is the impact of social media on the millennial generation. With highly engaging platforms like Instagram, Snapchat and Facebook, the need to live up to a certain perceived social media lifestyle is high. And the inability to match these standards leads to stress and anxiety.
Employee Assistance Programs
More Indian employers are becoming aware of the dangers regarding mental health problems and lending support to their employees.
Mumbai-based Indian multinational car manufacturer Mahindra & Mahindra has implemented stress management and stress inhibiting systems. They have a compulsory 14-day annual leave policy so that employees can de-stress and spend the two weeks away from work, which makes employees more refreshed and energetic when they return, and they are found to be more focused and engaged.
Mumbai-based industrial conglomerate RPG Group is planning to have an in-house counselor, said HR head Pratima Salunkhe.
"We are planning to have one in every location so people can just walk in. We are also sensitizing people including managers about mental health issues — anxiety, depression. We invited a counselor from outside who talked about mental health. People have been opening up."
Recognized as one of the best companies to work for in India in 2009, Noida-based RMSI Pvt. Ltd. provides a lot of options under its health and wellness program. They help employees de-stress through yoga, meditation, pranic healing, physiotherapy and regular check-ups.
Arianna Huffington's U.S.-based wellness company Thrive Global aims to "end the stress and burnout epidemic by offering companies and individuals sustainable, science-based solutions to enhance well-being, performance and purpose, and create a healthier relationship with technology."
Thrive Global is expanding to India — its first foreign expansion — because Huffington believes India's ancient wisdom and spiritual techniques are the answer to end the stress epidemic. The culture of meditation, yoga, contemplation and compassion has the power to "change our lives and our world," Huffington said.
Whether India's millennial stress level will decrease from such alarmingly high totals could depend on their willingness to seek help. Wellness programs that include caring for an employee's mental well-being can help break the stigma attached with mental health. Because, as the popular hashtag among millennials goes nowadays, #mentalhealthmatters.