There was no challenge too big for this year's 2018 Optimas Awards winners.
For the first time in Optimas Awards history, we've decided to give some extra love and add a bronze award to the mix. This year's stack of strong entries made it impossible to decide on just two winners.
Now in its 28th year, the Optimas Awards celebrate HR's success at solving some of the biggest business challenges of our time. Each year, the Optimas Awards are given by Workforce magazine to recognize human resources and workforce management initiatives that achieve business results for the organization.
One company embraced "giveability" and adopted a noteworthy Corporate Citizenship initiative, donating 10 percent of its profits to charities as well as creating a fund that financially supports employees going through struggles like domestic violence. Another company, inspired by one of the most famous time machines in motion picture history, created an innovative solution for maintaining employee engagement.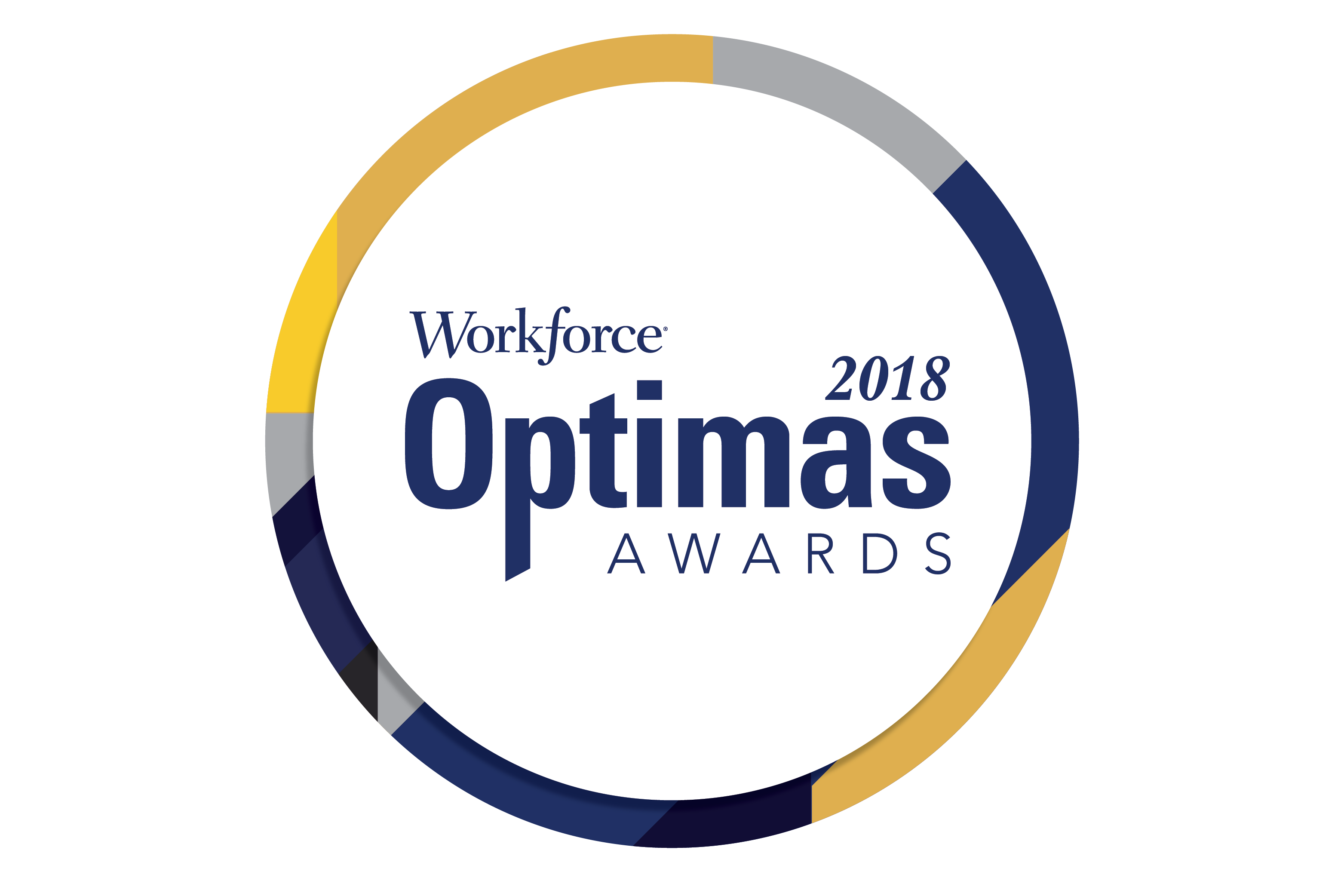 Our gold winner for Vision saw the challenging nature of the nursing professional cause turnover for the organization and burnout for the workers. The program — created by nurses, for nurses — strived to retain nurses by supporting their career growth and allowing patients to nominate exceptional nurses so that the organization can recognize them for their efforts.
And then there's our General Excellence winner, AMB Group, LLC, which, as many sports fans know, is the parent company of Atlanta's National Football League and Major League Soccer teams. The Mercedes Benz Stadium in Atlanta opened its doors in August 2018 for the Atlanta Falcons and Atlanta United FC, as well as all their fans. With a venue opening as large as this, AMB Group wanted to make a great impression on stadium visitors with a dedicated group of new associates.
Congratulations to all 31 of our 2018 Optimas Awards winners, which have shown us how motivated and creative so many organizations are to tackle HR's biggest challenges.
General Excellence Winner
Benefits
Gold: Cherokee County, Georgia, Board of Commissioners 
Silver: Banfield Pet Hospital
Bronze: Panda Restaurant Group
Business Impact
Gold: Gas South
Silver: Cherokee County, Georgia
Bronze: LaSalle Network
Corporate Citizenship
Gold: O.C. Tanner
Silver: AAA of Northern California, Nevada and Utah
Bronze: StratEx
Global Outlook
Gold: United Nations Development Programme
Silver: AbbVie
Bronze: Tata Consultancy Services
Innovation
Gold: SmartSimple Software Inc.
Silver: NCSoft
Bronze: Riverside Healthcare
Managing Change
Gold: Lawrence Livermore National Laboratory
Silver: Antah Schindler Sdn. Bdh.
Bronze: Nemours Children's Health System
Partnership
Gold: HR Acuity
Silver: Arise Virtual Solutions
Bronze: Bloomingdale's
Recruiting
Gold: SSM Health
Silver: Choptank Transport Inc.
Bronze: ReedTMS Logistics
Training 
Gold: Siemens Healthineers
Silver: TCS
Bronze: Raytheon Co.
Vision
Gold: University of Utah Health
Silver: Lawrence Livermore National Laboratory
Bronze: Ultimate Software