Creating and filling an employee schedule takes complex planning and hours out of a manager's week.
Yet employee scheduling can have massive impacts on a business, especially for organizations with a large hourly workforce and a high percentage of labor costs. 
Overstaffing and understaffing both have unique downsides to employee efficiency and satisfaction. An unpredictable employee schedule may contribute to burnout and turnover in your staff, ultimately requiring you to find and train new employees. 
Many factors go into the scheduling process and creating the most effective schedule, including having the right expertise on your team, communicating with your frontline staff, and using the right employee scheduling software.
Here's exactly how to schedule employees effectively. 
1. Understand the laws that govern schedules in your city or state 
Scheduling employees effectively, at its most basic level, requires compliance with labor laws. 
The right legal counsel for your organization, either in-house or outsourced, can help you keep up with updates and changes in the law so you can stay compliant. 
Different cities and states have been passing their own predictable scheduling laws regulating shift work over the past decade, starting with San Francisco in 2013. See if you are in a jurisdiction with predictive scheduling laws here.
Depending on the specific law, employers may have to schedule employees up to two weeks in advance. Further, these laws may levy employer penalties for unexpected employee work schedule changes, regulate "clopening" shifts, and define schedule recordkeeping requirements for employers. 
These laws address the challenges many hourly workers face, including unpredictable, unstable, and insufficient hours. Certain shift scheduling practices like on-call scheduling make it difficult for employees to hold second jobs or plan for other responsibilities in advance. 
But a good number of employers dislike the perceived lack of flexibility the laws impose on them, making it more difficult to make last-minute shift schedule changes. 
Here's where employee scheduling software like Workforce.com can help. Beyond helping employers track employee attendance and reliably schedule employees in advance, it's kept up-to-date with legal rules and regulations. Plus, managers can set their own employee scheduling rules. 
The software notifies managers if they break a law or rule when placing people in open shifts, so it makes it simple to stay compliant with predictive shift scheduling laws.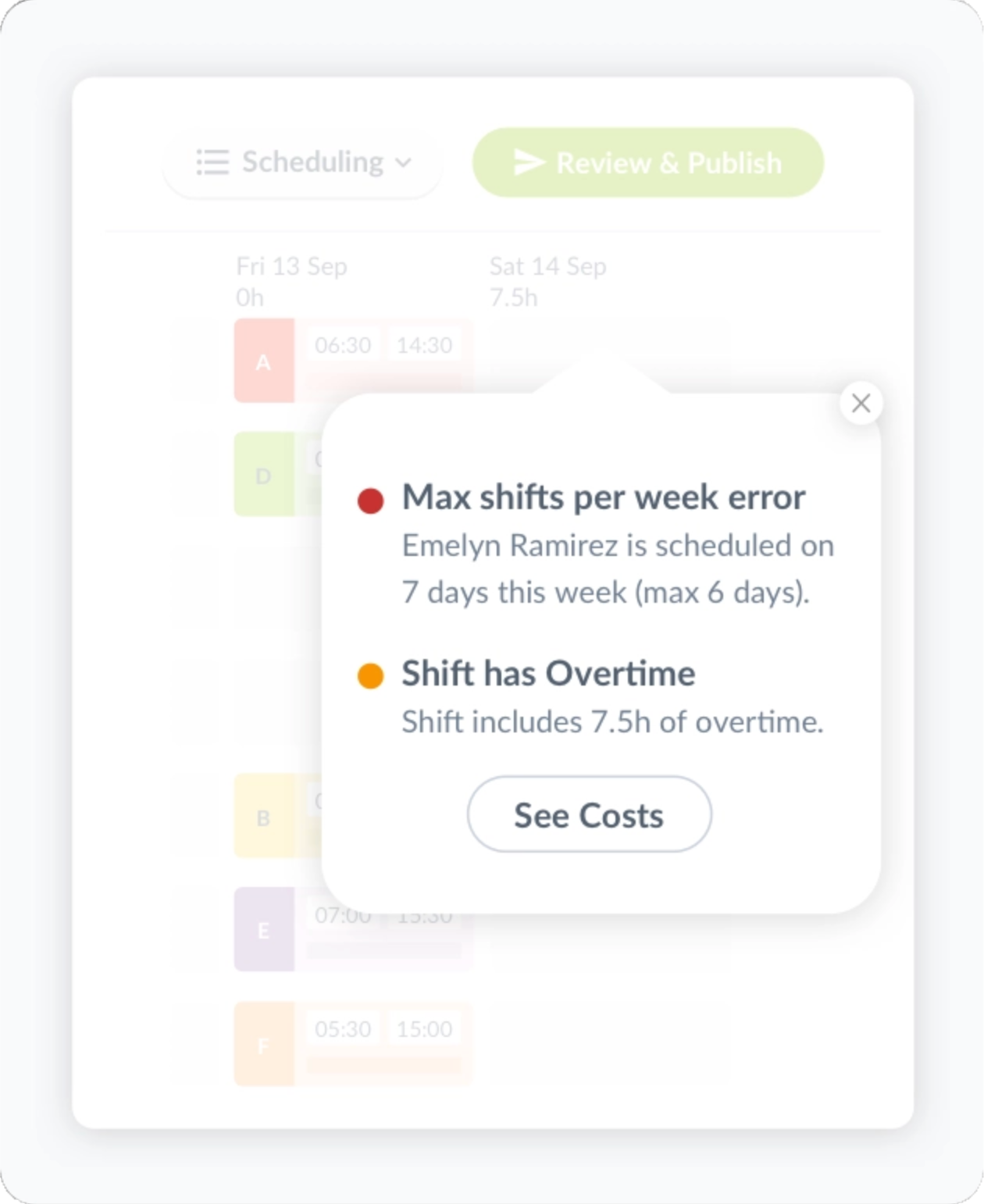 2. Use labor forecasting to create optimal schedules 
Labor forecasting is a powerful tool in employee scheduling. 
It allows you to predict how busy the business will be and how many employees need to be working at any given time to accomplish the needed amount of productivity. Specifically, you can use it to address availability and common shift scheduling challenges like overstaffing and understaffing. 
But many organizations don't use labor forecasting analytics to inform their decisions on scheduling shifts. According to the Workforce Business Intelligence Board's 2020 HR State of the Industry Survey, only 21.1 percent of organizations have used workforce analytics to inform decisions about employee schedule shifts.

There are two main types of data that go into these predictions. There's data on external factors, like the time of the year, weather, or whether some large event is happening nearby. And then there's data on your specific business's conditions and operations. 
To understand the drivers of your business that impact employee scheduling, you can go through this simple two-step process: 
Identify a unique, recurring "project" or goal in your business. What tasks go into that project every week? 

Get a deeper understanding of how your workforce accomplished those tasks by asking them about their day-to-day workload and how many hours it takes to complete each task. 
"The combined data will provide key insights into what employees are working on, how much they are working on, and any staffing capacity or over-allocations. Review the data on a monthly basis or more frequently to make data-driven decisions and assignments." — Scott Georgia, VP of Professional Services Delivery Management & Transformation, Alight Solutions
While no prediction is 100 percent certain, the more accurate and relevant data you can provide, the more confident you can be in your forecasts and employee scheduling, reducing your chances of overstaffing or understaffing.
Workforce.com's workforce analytics software can simplify the process, allowing you to schedule shifts profitably and to react quickly to changing operational needs.
3. Match the right employees to the right shifts
Filling open shifts is complicated beyond just legal compliance and predicting business needs. 
Employees have different preferences and limitations, and managers want to assign shifts that consider availability in a way that's fair. A flexible schedule can be effective in accomplishing this, as well.
We recommend a combination of scheduling algorithms and employee input for filling schedules. 
That way, a business can benefit from advances in technology while also taking real-world, human considerations into account. The human aspect improves the technology and minimizes scheduling conflicts. 
Specifically, we've found a scalable, effective way for staff to indicate their employee scheduling preferences through shift swapping in our scheduling app. It gives them the stability and flexibility of getting their work hours while juggling other responsibilities in their lives. 
4. Use shift ratings to measure the effectiveness of employee schedules 
How can you gauge the success of a shift schedule in terms of efficiency and productivity? 
That's where shift feedback and ratings come in. 
After a shift has ended, managers can consider what went well, what needed improvement, gauge employee satisfaction, and analyze whether staff members were effective. Any appropriate feedback that comes from this analysis tips labor forecasting in your favor. 
Workforce.com's shift ratings and feedback solution allows managers to quickly rate employees on a five-star scale after each shift. Managers can then access employees' ratings while putting together a schedule, helping them match the best employees to the specific needs of each shift. 
Employees also have the chance to submit feedback on the Workforce.com mobile app about what went well versus did not go well during their shifts, whether it was on-site or remote work. They can give feedback on a range of topics including staffing levels, employee engagement, and management.
The more insights you have on the perceived effectiveness of shift work from both the manager and employee points of view, the more you can understand what's happening on the front line and make good, strategic staffing and employee shift scheduling decisions. 
5. Actively reassess and adapt
The common thread running through these steps is that nothing about employee scheduling is static. 
Laws change, individual employees may become more or less productive over time, and the most efficient ones may leave if they're not getting sufficient hours or good shifts. 
Continually use the resources and data you have to understand what's successful on your front line. The same old employee shift scheduling patterns might stop working over time. And your employees' needs and levels of engagement will change. Effective employee scheduling requires that you're aware of these developments and adapt to them.
Want to easily create effective employee schedules using labor analytics, shift feedback, and more? Try Workforce.com free for 14 days.