Bill Baun wouldn't be where he is today without cancer. It's been a constant presence throughout his life.
A stage 4 prostate cancer survivor, the disease is part of Baun's identity. Ask him about himself and the second thing he'll tell you — after declaring his college pride in Louisiana State University — is that he comes from a family with a history of cancer. His motherwas diagnosed with colon cancer when she was just 5 years old. His father and grandfather both died of prostate cancer.
Baun, now the wellness officer at MD Anderson Cancer Center in Houston and a pioneer in the field of corporate wellness, witnessed firsthand the emotional and financial toll cancer has on those around it. His mother died when he was a freshman in college, leaving his father bankrupt from the medical expenses.
To put himself through college, Baun joined the ROTC. He graduated from LSU in 1971 with a degree in economics. Instead of putting his degree to use, he became an Army Ranger in an airborne unit, serving the majority of his active duty in Germany protecting and transporting nuclear weapons all over the world. As a member of the military police, he spent a great deal of time performing medical evacuations for accidents and had several scares with terrorist groups. His company also protected the largest nuclear weapons depot at that time in Europe.
"I went through hardships in the service," Baun said. "I watched people die. I held people while they died. And all that really changed me."
And it's what he credits as setting himself on a course toward shaping the field of corporate wellness. Those experiences instilled in Baun a desire to care for those who confront emotional trauma on a daily basis, much like the staff at MD Anderson Cancer Center. Baun, who just turned 67, has received numerous honors throughout his lengthy career in corporate wellness, most recently the Health Enhancement Research Organization's Bill Whitmer Leadership Award and induction to its Hall of Fame in August 2015.
Yet there was one more incident after leaving the Army that shaped Baun's commitment to wellness.
Six months after taking a job as youth activities director, Baun was rear-ended in his Ford Pinto on his way to a seventh-grade basketball game. The collision broke his back. After having his L1 through L4 vertebrae fused, he spent six months immobile in the hospital waiting for his spinal cord to heal.
During his recovery Baun met a man who had been in a motorcycle accident. Watching his recovery solidified Baun's path toward helping people get and stay well.
"I remember when they took his first leg," Baun said. "Then they took the second leg. And it hit me so hard that I was going to probably walk out of here someday and he was never going to walk again. That gave me the inspiration for my next career. I said I want to do something that is going to help people like this."
That opportunity to help came in the form of Bob Patton, now a professor emeritus of kinesiology at the University of North Texas. Back in 1977, Patton was an associate professor with his sights set on a new discipline called exercise science — the study of how the body moves. His academic interests eventually broadened to health promotion and preventive medicine, which served as the beginnings of the modern-day concept of wellness.
"Bob was a phenomenal salesman," Baun said. "I bought into it right away. What was funny was that he was brand new at all this, so he would study the night before and then teach it to us the next day. Literally there was no textbook."
Under Patton's tutelage, Baun was on the forefront of the movement to keep people well, which has since grown into today's multibillion-dollar corporate wellness industry. And that is where he has remained for the past 38 years. During that time Baun has witnessed firsthand what works — and what doesn't — in corporate wellness. As MD Anderson Cancer Center's head of wellness, Baun continues to set the standard for the steps employers should take to keep their workforce well.
Leaving Academics
Baun left the academic study of wellness behind in 1981 to find a better balance between his work life and home life. He accepted a position at Tenneco Inc., a Lake Forest, Illinois-based supplier of automotive parts, as the manager of fitness programs. There he began to make his first real impact on corporate wellness.
During his time there, Baun helped the company make fitness part of its corporate culture. Working under the vision of then-senior vice president Kenneth Otto, Baun guided the company's construction of a 25,000-square-foot gym that contained more than $200,000 worth of exercise equipment and launched wellness programs that brought him national recognition.
Baun parlayed that success into a consulting business that drew corporate clients including General Motors Co., Marriott International Inc. and Pfizer Inc.
Working on such a large scale garnered him recognition from another big organization that was intrigued by the concept of wellness. Two members of the MD Anderson staff contacted Baun after he did a book signing there in 1999. They wanted him to do four weeks of team training as part of an effort to introduce wellness into their organization.
"I went on the road before they sent me the offer, so I was gone for two weeks before I actually opened the letter," Baun said. "In that two-week period, what they had offered me went up $20,000. My wife says the moral of that story is you just don't answer emails for a couple of weeks and they'll raise your pay."
Unlike past positions where Baun had been in charge of building fitness centers, MD Anderson was interested purelyin wellness. They wanted to change behavior, not just provide access to fitness equipment. And they were willing to pay for it.
According to Dr. Thomas Burke, the current executive vice president and physician in chief at MD Anderson, at the time Baun was hired, fighting cancer had gotten more complicated. Many different theories on how to effectively treat cancer — from radiation to surgery — were being posited, which put added stress on the physician. As a result, many of the talented doctors at MD Anderson were feeling burned out.
The organization, and its executives in particular, put their faith in Baun to solve this problem. He was given $563,000 to start a program that would not only take care of employees' health but also teach them to take better care of themselves.
His first step was to change the culture.
"We work in a hospital, so somebody probably will die here today," Baun said. "Can you imagine working in a place like that every day without a culture that cares for not just the sick but also the caregivers? In my mind, that's what a wellness culture does."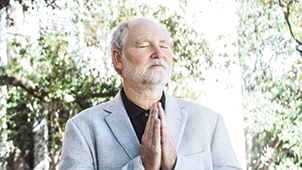 Crafting Corporate Culture
Baun explained that it is ineffective to teach people wellness skills without first giving them an environment that promotes wellness. To that end, the first changes he made at MD Anderson were simple: remove junk food from the cafeteria and vending machines and provide easy walking paths for employees.
After making those basic environmental changes, Baun moved on to changing the culture. And to do that, he began in the middle.
MD Anderson has 77 different buildings on its campus, each with its own individual culture, Baun said. To affect such a wide range of employees, he needed buy-in from middle managers.
"You need middle management on board to make a change," Baun said. "They're the ones who decide how change happens. If you start by solving some of their big issues, such as morale and absenteeism, you'll get more employees involved in wellness in the end."
Baun encouraged middle managers to find activities that interested their direct reports and use the time to promote wellness and office relationships.
Dr. Ronald DePinho, president of MD Anderson, struggled with the concept of initiating organizationwide cultural change at first. He remembers calling Baun into his office to better understand the execution, and Baun told him this story.
"That day someone had called me and called about one of our research buildings," Baun said. "There was a group up there that was making too much noise and they thought that it was one of my exercise groups. I walked into the corner and there were 30 women and they are all doing tai chi in this hallway. I took a picture on my phone and showed it to Dr. DePinho and I said this is a culture of wellness. I didn't have anything to do with this. The wellness team didn't have anything to do with this. This is women knowing what's good for them and taking care of it themselves. That's what a culture of wellness is all about."
Don't Sweat the ROI
Given his expertise, Baun is often asked how to implement an effective wellness program. By far one of the most common questions is also, in his opinion, the least appropriate: What is the hard return on wellness?
Before companies can begin to consider getting the most bang for their buck, they have to create employee engagement through a culture of health.
Furthermore, determining ROI is a costly and complicated process, according to Baun. Most companies will spend $30,000 to $50,000 on that kind of metric. And it doesn't provide as much insight into a program's effectiveness as many benefits managers think.
"ROI puts everything into a big mixer and then comes out with one number," Baun said. "If you look at the literature, many companies are saying they focused on ROI too much and too early."
Instead, benefits managers and employers should turn their attention to VOI instead: value on investment. This metric looks at independent job aspects and how being healthier allows the workforce to perform better. Baun suggests focusing on reduced rates of absenteeism or fewer claims for the workforce's diabetic population. These numbers show actual value for the company.
Baun understands that this is often easier said than done, especially when having to report to the C-suite. His advice: Show them the effect it makes on employees' individual health.
"When I'm handed ROI and other statistics and try to make a call on how much wellness is worth, that's tough," said Leon Leach, executive vice president of HR at MD Anderson. "When you put a face to it, it's real."
Even if benefits managers meet resistance at first, Baun encourages them to focus on the people they're trying to serve.
"I think sometimes we get ruffled when people don't understand us right away," Baun said. "This is a relationship game. This is all about building relationships with people so that they trust you and give you the opportunity to show you what we can do. I think sometimes wellness programs want things done fast, and that's not how this works. It needs to be one small step at a time and one relationship at a time."