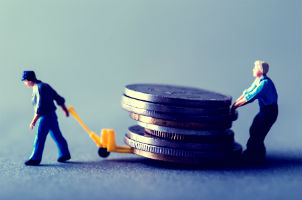 Staffing Agency Randstad released its 2017 Salary Guides, which cover seven industries including human resources.
With the low unemployment rate and a skilled labor shortage, HR organizations must position themselves to attract and retain top talent, according to the guide released Feb. 21. Across generations, gender and education levels, salary and benefits was cited as the most important factor when choosing an employer.
The guides provide an in-depth look at salaries for many in-demand roles:
Human resources
Information and technology
Engineering
Finance and accounting
Life sciences
Manufacturing and logistics
Office and administration
"As a staffing agency, we feel it is our responsibility to provide our clients and employers with the salary information they need to make employment decisions in their best interests," said Jim Link, chief human resources officer of Randstad North America. "With the strong economic growth over recent months, workers can anticipate an average pay increase of 3 percent in 2017."
Compensation information is highlighted for specific positions within these sectors. Over 40 geographic markets are grouped into five pay zones that offer similar pay rates. Salaries in specific regions vary based upon local market conditions and position-specific requirements such as company's size, experience levels, professional certifications or certain software knowledge. The data reflects base compensation and is derived from a combination of private and public companies through the Economic Research Institute.
According to Randstad, among the highest compensated lower-level HR positions is a benefits and compensation specialist, earning a base salary of $79,644 per year in areas including San Jose, California, and Fairfield County, Connecticut. The average salary for an HR manager in the professional services industry is $78,898 to $100,940 in New York. The lowest compensated lower-level HR position is a human resources coordinator, earning a base pay of $32,187 annually in geographic markets including Jacksonville, Florida; southern Nevada; Columbus, Ohio; and central Pennsylvania.
In Chicago, the lowest salary for a VP of HR is $126,690 in the nonprofit sector, according to the report. Other salaries from the guide: The highest VP of HR position earns $190,550 in the insurance and IT/software industries. A senior HR manager earns $79,644 to $123,600 annually. The average salary for an HR coordinator in the health care industry is $37,131 to $47,792. The average salary for an HR generalist in the financial services industry is $63,705 to $84,924. A learning and development director earns $95,532 to $163,410 annually. The highest salary for head of recruitment is $164,800 in the insurance, IT/software and financial industries.
Today's talent pool is limited, and it's difficult for hiring managers to fill open positions. "There are currently 5.5 million job openings and only 1.4 unemployed people per job opening," said Link. Employers requiring candidates with specialty skills have an even smaller candidate pool from which to hire. The supply and demand of talent can significantly impact how attractive your compensation package must be to draw top candidates.
The guide provides a benchmark for assessing the strength of an organization's pay rates against those of competitors. It's become a candidate-driven market where job seekers utilize tools to determine if they are getting paid what they're worth. Knowing the market average for specific positions and nearby geographies can ensure candidates and employers receive the most competitive offers. "The guides serve as a reality-check for securing the best talent in a competitive, job-heavy, talent-short economy," said Link.
Mia Mancini is a Workforce intern. Comment below or email editors@workforce.com.