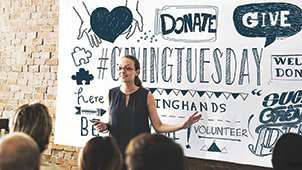 On the third Friday of every month, a LinkedIn employee somewhere around the world may be telling young adults to call their parents or help pay for a wedding at city hall. Maybe they're volunteering at their child's school or with their favorite charity.
These Fridays are called InDays. Each month has a theme chosen by someone on the executive team, and employees have that day to focus on transforming themselves, their team, the company or the world with that theme in mind, said Nina McQueen, vice president of global benefits and employee experience at LinkedIn. Five people run the program globally for the 30 countries in which LinkedIn has offices, and 240 "culture champions" help manage it in individual locations.
"InDay is meant to have you catch your breath and focus on something that inspires you that you're passionate about," she said. "It fuels you for the next 30 days ahead."
These themes create the essence of what it means to work at LinkedIn, she added, and they stay the same year to year. They include vision, reflection, environment, play, culture, relationships, wellness and learning. Employees, in groups of three or four, can either participate in an event on a LinkedIn campus or outside of it. They show their participation by posting on social media with the hashtag #LinkedInLife.
February's InDay had the theme of "Community" and each employee received $25 with instructions to "pay it forward" through a random act of kindness. Employees went into their community to do what inspired them, McQueen said. One team in India pooled their money and bought lunch for the office's janitorial staff, she added. Another team in London bought several prepaid Starbucks cards and hung outside with a sign saying, "Let us buy YOU a cup of coffee."
"They take pictures, they come back, they tell their story," McQueen said.
Family was the theme in November 2016, and it provided a unique spin on a well-known work practice.
"Rather than do 'Bring Your Child to Work Day' we do 'Bring Your Parent to Work Day' because we have quite a large millennial population and we understand that parents are still a huge resource for young people," McQueen said. The CEO and head of HR also brought their parents.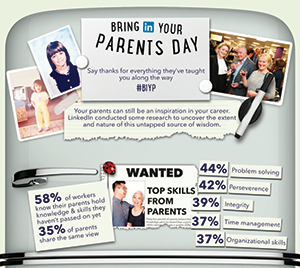 Once an InDay ends, McQueen said, "We take visual accounts, participation counts, we look at social media and see how many posts we had and the different places it's mentioned in social media." A team then puts together a package for the executive staff on the following Tuesday's executive meeting including photos and anecdotes of the activities LinkedIn employees accomplished around the world.
Setting days aside for specific purposes isn't unique to LinkedIn.
"We've seen an uptick in companies taking time during the workday to promote self-care and self-improvement for employees," said Richard A. Chaifetz, CEO of employee assistance program provider ComPsych. The Chicago-based EAP has received requests to host training sessions and workshops on topics such as legal, financial and caregiving matters. Other popular topics include stress, mindfulness and relationships, he added.
SunTrust Banks provides employees a fiscal health day every year for employees to get their finances in order, according to The New York Times. Entrepreneur recently listed the types of activities companies plan correlating to the seasons, including a summertime camping trip by a Salt Lake City marketing company.
"These practices are part of employers' efforts to improve and enhance their culture," Chaifetz said. "Which is especially important for attraction and retention of millennials, who value work-life balance and self-improvement."
Andie Burjek is a Workforce associate editor. Comment below or email editors@workforce.com.