Faced with a red-hot job market, employers are offering perks like free ski passes, complimentary e-readers and on-site acupuncture to attract and retain quality employees.
These benefits are certainly fun and may help attract top talent. Certainly, some people may jump at the chance to work at a firm that offers in-house yoga and spin classes. But there are organizations where once the luster wears off, employees begin to see that these benefits are simply camouflage over a toxic work environment.
They speculate that such perks are provided simply to entice employees to never leave as opposed to rewarding them for jobs well done. Catered lunches and dinners might make employees think that leaving the office for meals is frowned upon, while free trips cause skeptical workers to question whether they'll be able to make their own vacation plans or do as the company dictates.
Workplaces with low employee morale see constant churn, and right now, the number of U.S. workers quitting their jobs is the highest it's been in more than a decade. Seven in 10 American workers are not engaged in their jobs, according to Gallup's recent "State of the American Workplace" survey.
Given today's robust job market, employers must work to develop positive, healthy workplaces that entice top talent. Dedicating resources to the benefits that matter most — competitive compensation and respect for a healthy work-life balance, to name just two — will help ensure that workers join the right firms and stick around.
So how can businesses build and sustain a positive culture? It starts the day they receive a prospective hire's résumé.
Promote Timely Hiring Practices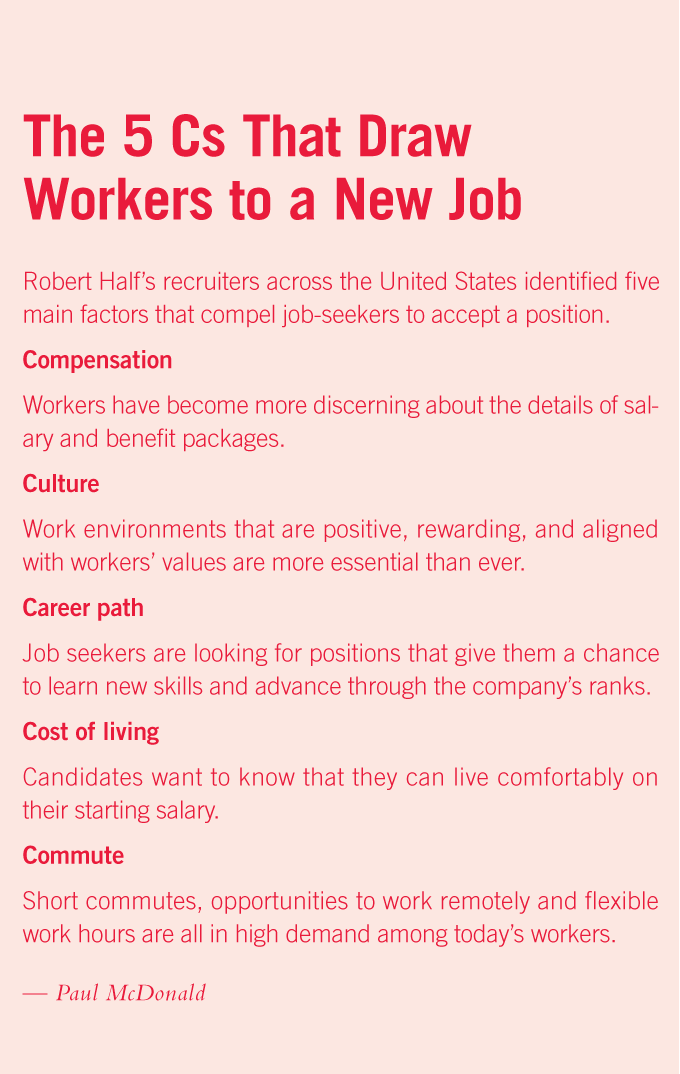 Many businesses drag out the hiring process and make prospective hires fret for weeks after they take an interview. That rubs applicants the wrong way. In a survey of 1,000 U.S. adults by my organization, Robert Half, 40 percent reported that waiting just one to two weeks after an interview for an offer was "too long."
This lengthy hiring process causes 40 percent of U.S. adults to lose interest in the role and pursue other job openings, according to the same survey. Nearly 1 in 3 adults reported that a lengthy process makes them question the company's ability to make other decisions.
It's imperative for employers to put their best foot forward the moment an applicant submits a résumé. Managers should interview all candidates on-site and make sure that everyone who needs to meet with the applicant is available that day. Employers should also offer applicants a chance to see the office and meet their potential co-workers, which allows candidates to quickly assess the company's culture for themselves.
After the interview, employers should let prospective hires know when they can expect to hear back. If there's a delay in the decision-making process, employers should update candidates as soon as possible.
These simple courtesies go a long way in ensuring that prospective hires feel wanted and respected, which increases acceptance rates and builds goodwill.
Focus on What Matters Most to Workers
Employers also must make sure that they're giving employees what they want. Workers aren't as interested in extravagant perks as employers may think.
According to a survey by software firm Qualtrics and venture capital firm Accel Partners, 80 percent of millennials rank in-office perks as the least important benefit when considering a new job. The same survey found that millennials want a workplace that fosters a sense of pride and offers competitive compensation, a positive culture, opportunities to advance and flexible hours.
Getting the Fit Right 
According to "The Secrets of the Happiest Companies and Employees," a survey of 12,000 workers by Robert Half in collaboration with engagement-analytics company Happiness Works, the biggest factor affecting worker happiness is the sense of pride an employee takes in their job. Workers who share a company's vision derive more meaning, satisfaction, and happiness from their jobs than employees who see their work as a mere paycheck.
But employees also want competitive compensation, and they want their managers to be proactive about giving it to them. Ninety percent of workers think they deserve a raise, but only 44 percent planned to ask for one in 2017. In fact, many professionals would rather be cleaning their house, getting a root canal or being audited by the IRS before asking for a raise.
Given this hesitancy, employers need to be proactive. They should clearly communicate guidelines for raises and they should be more vigilant about ensuring that they're paying competitive salaries. It's no longer enough to compare salaries once a year. In today's job market, employers should strive to cross-compare salaries at least twice a year, if not quarterly.
To that end, managers also should set up meetings with their employees to discuss compensation. These meetings can help professionals understand the factors affecting compensation levels and the steps needed to earn a raise.
Recognizing workers' successes with consistent compliments and encouragement costs managers nothing but makes employees feel valued. In fact, nearly 1 in 2 employees ranked management's recognition as "very important" to their job satisfaction, according to a survey of 600 U.S. employees by the Society for Human Resource Management.
Workers also want an opportunity to climb the company ladder. Prospective hires consider advancement as one of the chief considerations of taking a job, according to that same SHRM survey.
Finally, a company culture that gives employees the flexibility to attend to their private lives is of high importance to employees.
More than half of workers are willing to change jobs for a position that offers more flexible working hours, according to the Gallup survey. This is understandable, given that today's workers spend an average of 49 minutes commuting each day, according to my company's research.
Businesses can offer this work-life balance by allowing telecommuting where it makes sense and bringing in project workers when the core team is overwhelmed.
Following these guidelines would do wonders to attract and retain workers as well as boost employee happiness.
The Benefits of Happy and Engaged Workers
When employees are invested in their work and committed to doing their jobs well, company productivity also improves. According to the Gallup survey, business units that score in the top quartile of their companies on measures of worker engagement experience 41 percent less absenteeism compared to the lowest quartile of units. They are 17 percent more productive. These companies also are 21 percent more profitable, the survey noted.
Happy and engaged workers are also considerably less likely to leave their jobs, thereby reducing turnover-related costs.
By comparison, when workers are not engaged, the company's bottom line suffers. One disengaged employee costs his company more than $2,200 per year, according to a study by ADP. That equates to hundreds of billions of dollars overall.
At a moment when talented employees are increasingly hard to come by, attracting top talent requires more than quirky company perks. Businesses need to invest in creating the kind of workplace culture that supports happy, engaged employees.
If they don't, their most valuable workers will have no trouble finding the exit no matter how many trips to posh Caribbean resorts they are offered.
Paul McDonald is the senior executive director at global staffing firm Robert Half. Comment below or email editors@workforce.com.