Employers are navigating a variety of issues as employees gradually return to a more permanent physical workplace.
According to a new survey by Aon, 52 percent of employers said employees will return onsite in the third quarter, and 81 percent of those organizations already have a tentative date in mind. A May 2021 survey by law firm Littler, however, reveals a disparity in employers' plans and employees' preferences when it comes to hybrid work models and returning to physical workplaces.
There are several reasons employees may hesitate returning to the workplace. Chief among them for parents of young children, returning to work means finding quality, affordable child care.
Reestablishing pre-pandemic connections to daycare facilities is a challenge for many workers who are remote or unemployed and looking to return to work. The pandemic has crushed many small businesses, and child care centers are no exception, said Lauren Gill, head of people at New York-based child care provider Vivvi, which has 200 employees working on three campuses. Thousands of child care facilities have closed since March 2020, Gill said, and experts say that will have a profound impact on working families, especially women.
"Our challenge as an industry is how to rebuild and provide increased access," Gill said.
Women bear the brunt of caregiving
The Center for American Progress found that the pandemic led to a 144 percent increase in child care-related work absences from September through November 2020, compared with the same period in 2019. The pandemic also led three in 10 women with children under 18 to temporarily or permanently leave the workforce to become a primary caregiver to children.
"The pandemic exacerbated the issues, resulting in over 2.2 million women leaving the workforce and the average parent spending 27 more hours per week on child care," Gill said. "This has forced organizations to confront the fact that child care is a universal concern that affects all employees and that employee benefits have inadequately addressed this issue. Inadequate access to quality child care has been a challenge for individual families, for employers and for the U.S. economy for a long time."
Fatima Goss Graves, president and CEO of the National Women's Law Center, said that child care providers bring invaluable benefits to children and their families every day.
"Our entire economy is dependent upon their labor, yet razor-thin margins and a dearth of public investment mean the workers themselves receive poverty-level wages and few benefits," Goss Graves said in a statement commemorating National Child Care Provider Appreciation Day in May.
Early childhood education is already a physically and emotionally demanding field, said Kae Bieber, education programs manager at nonprofit ACCA Child Development Center in Annandale, Virginia. The additional workload from health precautions coupled with the stress of working in a field that exposes employees directly to COVID-19 has made it difficult to fill positions.
At the pandemic's onset ACCA kept its doors open for the children of essential workers, Bieber said. The number of children dropped from over 210 to 40 in the early days of the pandemic.
Struggling now to fill positions
As more parents returned to work and enrollment increased, Bieber said they have struggled to find qualified staff to fill positions vacated by employees who left during the pandemic. Some employees felt pressure to find a less stressful, safer choice for them and their family, so they left, she recalled.
"With the limitations on capacity due to COVID regulations and the need for staff, wait lists for quality child care are increasing," she said. "Most often, a parent may get the call to return to the office but then still must wait until child care is available. This causes stress on the parents during an already extremely challenging time."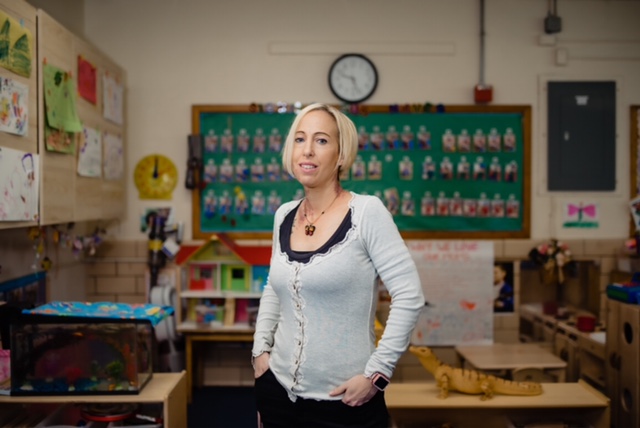 As ACCA — which has an infant-toddler center as well as a preschool building with 12 classrooms — began restaffing its workforce of 65 hourly employees, Bieber found job candidates were hesitant to join the field. Early childhood education previously was seen as a good starting point for someone interested in working with children and education, she said.
"Now a potential candidate must consider the low wage in comparison to the sacrifice they will be making with their lives for themselves and their family," she said. "We may have 30 responses to one job posting but when a potential candidate sees the reality of the amount of work and exposure in-person, they do not see the value in their work due to the low wage."
While money may not be everything, Bieber believes that if they were able to offer hazard pay as additional support during the pandemic, ACCA would not have lost as many child care professionals. In a worker's mind, she said, they could at least feel as if they were being compensated in some way for the exposure they were faced with and bringing to their homes.
"No matter how vested someone's heart may be, if their ability to provide for their family is struggling and they are now facing exposure to a deadly virus each day, it can be very difficult to rationalize staying in that position."
Employees move on for safety and pay
Good employees were forced to choose between staying with a profession they loved versus switching to a job with less exposure and often higher wages, she said. The added sanitation measures quadrupled workloads in an already labor-intensive environment. Interaction with children also changed dramatically due to social distancing guidelines.
"Children thrive off of closeness, hugs, smiles, high fives, pats on the back and interacting with each other," Bieber said. "We lost that, literally overnight. We went from creating high quality learning experiences to supervising social distancing and implementing nonstop sanitation. Our staff began to question if they were doing more harm than good by having children play six feet apart and keep their distance from the children. They had a very difficult time adjusting to the new normal."
Stagnant wages for caregivers
Though there is a greater appreciation for child care, Gill said many programs are restricted in their ability to boost wages since they are under-enrolled and recovering from months on end collecting little or no tuition.
"We haven't seen a major shift in wages in the child care industry since the pandemic," she said.
Gill added that as a sector, they need to think about how to make early childhood education a true career with all of the financial stability, respect and growth opportunities that other careers offer both in the wake of the pandemic and beyond.
"We should never make educators choose between their passion and a comfortable life," she said. "It's vital that they become synonymous."
Entice candidates by prioritizing benefits
There are opportunities to bring stability to the child care industry and its professionals. Only 4 percent of employers offered subsidized child-care centers or programs, according to the Society for Human Resource Management's 2019 employee benefits survey. There is a huge opportunity to move the needle, Gill said.
"Employer partnerships are a path to bringing high-quality care and early learning to more families" while helping employers recruit and retain top talent and increase productivity across the board, Gill said.
As a private employer that has partnered with organizations including the New York Presbyterian Hospital network, Gill said Vivvi built its business model with competitive wages for teachers at its core. "While we haven't shifted our compensation strategy as a result of the pandemic, we continue to offer full-time, salaried roles and offer a full suite of benefits," she said.
Some employers are looking at offering employee benefits that give employees options for access to affordable and quality child and elder care options, said Michelle Barrett Falconer, co-chair of the Leaves of Absence and Disability Accommodation Practice Group at Littler Mendelson.
"If an employee has access to affordable, quality child and elder care, the employee may not need to take time off from work using a paid family leave statute to address those caregiving obligations," Barrett Falconer said. 
Higher wages are not yet a reality for early childhood, Bieber said, although with the Biden administration's new American Rescue Plan, she sees hope that wages for early childhood workers could begin to increase and meet a living wage for early childhood educators.
"The child care industry desperately needs legislation in place to recognize early childhood education as a valued profession and the message from top to bottom in our society needs to place emphasis on the recognition and need for quality child care," Bieber said.
Having spent most of her career in education, Gill said that supporting the educational development of future generations is a monumental and vitally important task. Affordable, quality child care can be transformative for working families and make for happier, more productive employees, she said.
"When parents have peace of mind, they can pursue their goals outside of the home and be better, happier parents as a result."