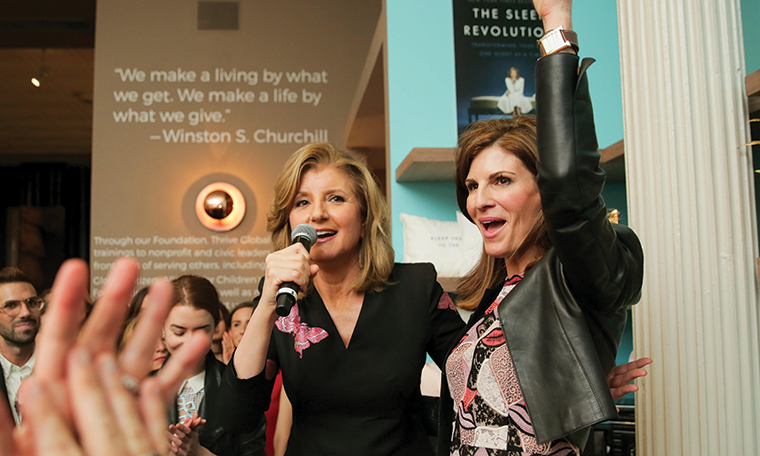 For 11 years Arianna Huffington gained massive influence in media and rubbed elbows with A-list celebrities, international politicians and business leaders as president and editor-in-chief of The Huffington Post. Huffington, 66, had followed in the journalistic footsteps of her father but pivoted drastically in 2016 when she made the surprise announcement that she was stepping down from her prominent position as a media mogul to begin a corporate wellness startup. Thrive Global enters the crowded health and wellness space with a mission to end the workplace stress and burnout epidemic on a global scale using scientific solutions.
Huffington's company, which officially launched in New York in November, offers workshops, e-courses and certification programs, as well as a host of wellness technology apps and an e-commerce store. The start-up also features editorial content on a range of topics like sleep, meditation and stress reduction and sends out weekly newsletters aggregating relevant health and wellness stories. And it's partnered with companies like Uber, Under Armour and Accenture for corporate wellness training.
Huffington serves as CEO, alongside Thrive Global president Abby Levy, a former consultant to the consumer product and digital media businesses, and Maya Major, the "chief of stuff" who heads human resources, business operations and finance.
Thrive Global's entry in the corporate wellness space marks an example of the changing industry, which has expanded from a focus on physical wellness to a broader focus on overall well-being. This allows new companies to specialize on one particular area of the well-being field.
Some 61 percent of corporate well-being companies specialize in fitness services, smoking cessation, nutrition and weight management, and alcohol and drug abuse services, according to the IBISWorld Industry Report from July 2016. Thrive Global is among the 11 percent that addresses stress management.
Huffington, who sees great growth potential for her stress- and burnout-focused company, responded to questions in an email interview with Workforce to offer her opinion on the wellness industry, the kind of impact she hopes Thrive Global will have and why this is the perfect time to combat the burnout epidemic in the workplace.
Workforce: What is your opinion of the corporate wellness industry? Where does Thrive Global fit in?
Arianna Huffington: Right now a lot of corporate wellness programs are focused on downstream harm reduction, working only on the symptoms. But 75 percent of health care costs in the U.S. are about treating preventable, often stress-related conditions like diabetes, high blood pressure and heart disease. So what we're doing at Thrive Global is focusing upstream on the root causes — burnout and stress.
We're also following the science to come at it from a different premise. It's not about balance. Thrive Global is based on the truth that work and life, well-being and productivity are not on opposite sides — so they don't need to be balanced. They're on the same side and rise in tandem. Increase one and you increase the other, which is what the science clearly shows.
And finally, we're also using science to drive behavior change that can be sustained and incorporated into people's daily lives.
WF: Why start Thrive Global in such a crowded field? What will you do differently than other companies?
Huffington: For what we're doing, the field isn't crowded. In fact, I think we're really the only player that brings together all of the elements we do. It starts with our commitment to following the science, and using that to inform the three interconnected pillars of the company. First, there are corporate trainings and workshops. Second is our media platform, The Thrive Journal, designed to be the global hub for the conversation on productivity and well-being. This features not just the latest science, but also commentary by new role models showing how you can be in the arena and be a successful leader without burning out. And third is our e-commerce platform, which offers our curated selection of the best well-being technology, products and services. All these elements work together to produce our menu of products, services and sustainability that we think is unique.
WF: Is the industry poised for consolidation or is there still plenty of room for growth? If so, in what areas is there room for growth?
Huffington: I think there's huge room for growth. We're really at an inflection point right now, coming out of an idea of work and success that dates back, really, to the Industrial Revolution. We're also in the golden age of science in the fields of sleep, neuroscience, productivity and performance. And the results of the science are clear — that when we prioritize our well-being, our performance goes up dramatically, across the board. And yet, our work culture has only just begun to shift. And even as the business world begins to internalize these findings, the growth of technology and the pace of change in our lives makes ending this culture of burnout even more challenging. And though technology has made us feel more harried and distracted, one of the next frontiers of technology is technology that actually helps us disconnect, shut off the noise and reclaim time and space for ourselves. So, yes, there is a lot of opportunity for growth; we're just at the beginning.
WF: In your opinion, what should HR and benefits leaders look for in a corporate wellness program?
Huffington: It's important to intervene upstream, where the stress and burnout are created. This includes, of course, flexible schedules, email policies that discourage after-hours work, nap rooms or nap pods, and robust vacation policies. And because work and life are integrated, it should also include training and assistance in helping employees prioritize their sleep at home.
But most important, even the best wellness plans won't be maximized if there's not buy-in from senior management to change the incentive structure. If HR is saying one thing, but senior management is still incentivizing burnout culture, we know which message most employees will listen to. So along with great plans to prioritize well-being, companies need the culture shift to be modeled at the top, so it's those employees who prioritize their well-being who are celebrated and promoted instead of those burning themselves out.
WF: You're a big advocate of proper sleep. Why?
Huffington: Because sleep, as the latest science shows, is connected to virtually every aspect of our physical and mental health. From heart disease, high blood pressure and obesity to depression and anxiety, the dangers of inadequate sleep are nearly endless. And when we sleep well, we increase our creativity, productivity and make better decisions.
WF: How does nutrition fit into corporate wellness? 
Huffington: Nutrition is very important. But as with other aspects of our well-being, it can't be considered in isolation. Nutrition, stress, weight management and sleep are all deeply connected, and so it's not enough to just advocate good nutrition or provide healthy snacks, though those are important. Nutrition is just one part of the overall well-being discussion.
WF: Are you a fan of the carrot-and-stick approach to wellness involving financial rewards and penalties?
Huffington: I think carrots are more effective than sticks. Most people want to add more well-being to their lives; they want to do well in their jobs and they want to feel happy and fulfilled. So what's needed is to lower the barriers, offer institutional support and set up a culture that incentivizes all of these.
WF: Some critics say corporate wellness doesn't save money or improve health. Your response?
Huffington: They're simply wrong. And it's not a matter of opinion; the science and data are clear. If well-being programs are instituted successfully, the benefits on health and the bottom line are clear in case after case.
WF: Is ROI important while measuring success of a corporate wellness program? 
Huffington: Definitely. And with the right program, you'll see it. At Aetna, when CEO Mark Bertolini offered well-being programs that included meditation and yoga to his employees, the result was a 7 percent drop in health care costs in 2012, and 69 minutes of additional productivity per day for the employees who participated.
WF: Where do you see the wellness industry in five years?
Huffington: I think it's going to continue to grow and grow. But the true mark of success will be when we don't actually see these programs as "wellness programs" per se, but just how business is done.
Andie Burjek is a Workforce associate editor. Comment below, or email at aburjek@humancapitalmedia.com. Follow Workforce on Twitter at @workforcenews.